Home...
Manado - North Sulawesi, Dive the Lembeh strait !

Lembeh Straits is the muck capital of the world, with plenty of "weirdos" to be captured on cameras, film or digital! SDQ Lembeh Dive Resort, the sister resort of SDQ Bunaken Resort", is located right on Lembeh Island, on the ONE and ONLY white sandy long beach. Our traditional Minahasa bungalows have their own balconies with sea views, western bathroom, fan and running water!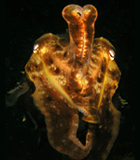 Underwater Photographers are Welcome in Lembeh Strait !
Lembeh Straits is a 12 km long stretch of water separating Lembeh Island and the mainland. This region is not known for its massive schools of pelagic fishes or congregations of sharks. Instead, Lembeh Straits has become known as a "Macro-Mecca." This is because of the incredible number of unusual marine animals that are regularly encountered in this area - Cuttle fish, Mandarin fish, Squid, Octopus, Ghostpipefish, Hairy Frogfish, Pygmy Seahorse, Crabs, Shrimp, Nudibranch, Scorpion fish, and many more rare and unusual animals.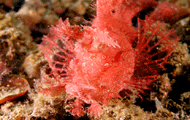 Indonesia's Lembeh Straits continues to be the hotspot for small and unusual marine life. Over the years, Lembeh Strait has shot up to fame as a muck diving Mecca in the region, and in the world, thanks to an endless array of unique critters constantly being discovered. Despite a topography that rarely varies - black sand, few strands of coral - on 90 percent of the sites, every dive is one of a kind because each site features some of the coolest critters on the planet. Here is a Lasy Scorpion fish - RHINOPIAS captured last July 2006 by Kelly Chua from Singapore.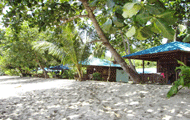 With a prevalent northernly wind, you are encouraged to bring your own hammock. SDQ Lembeh is a small resort, and we will keep it small :) always. We have only 5 traditional Minahasa bungalows. In each bungalow is a twin or double bed. . In 5 bungalows, we can put max 10 guests / divers only. So if you want to book your stay on Lembeh island with us, you are recommended to book at least one month before your arrival. So, why wait?? Go plan your dive trip with us NOW!












Although many of the critters we saw in Lembeh this time were different from the ones we saw there a few years ago, the diving is still as good as we remembered and we will return again as soon as we can. A big THANK U to all the guides at SDQ. For our group of 4 photographers they managed to continually find critters to photograph so that throughout the dive we were busy taking pictures, never having to wait for each other, never having time to look for ourselves. This is not an easy task and it is thanks to them that our dives in Lembeh were among the best ever.


READ MORE COMMENT !
SULAWESI DIVE QUEST
LEMBEH ISLAND

SDQ Lembeh Island - Near Bitung
North Sulawesi - INDONESIA
Email: info(at)sdq-dive-lembeh.com







Japan Web